Discover more from The Half Marathoner
A newsletter about where running can take us
Over 42,000 subscribers
A few changes + Charleston, Myrtle Beach, Kiawah, Daufuskie
5 Coastal Carolina half marathons you'll love running
In Monday's and Tuesday's subscriber-only issues, we talked about races from the Mississippi Gulf coast to Georgia's Tybee Island. If you'd like to receive more like these, sign up for our full subscription: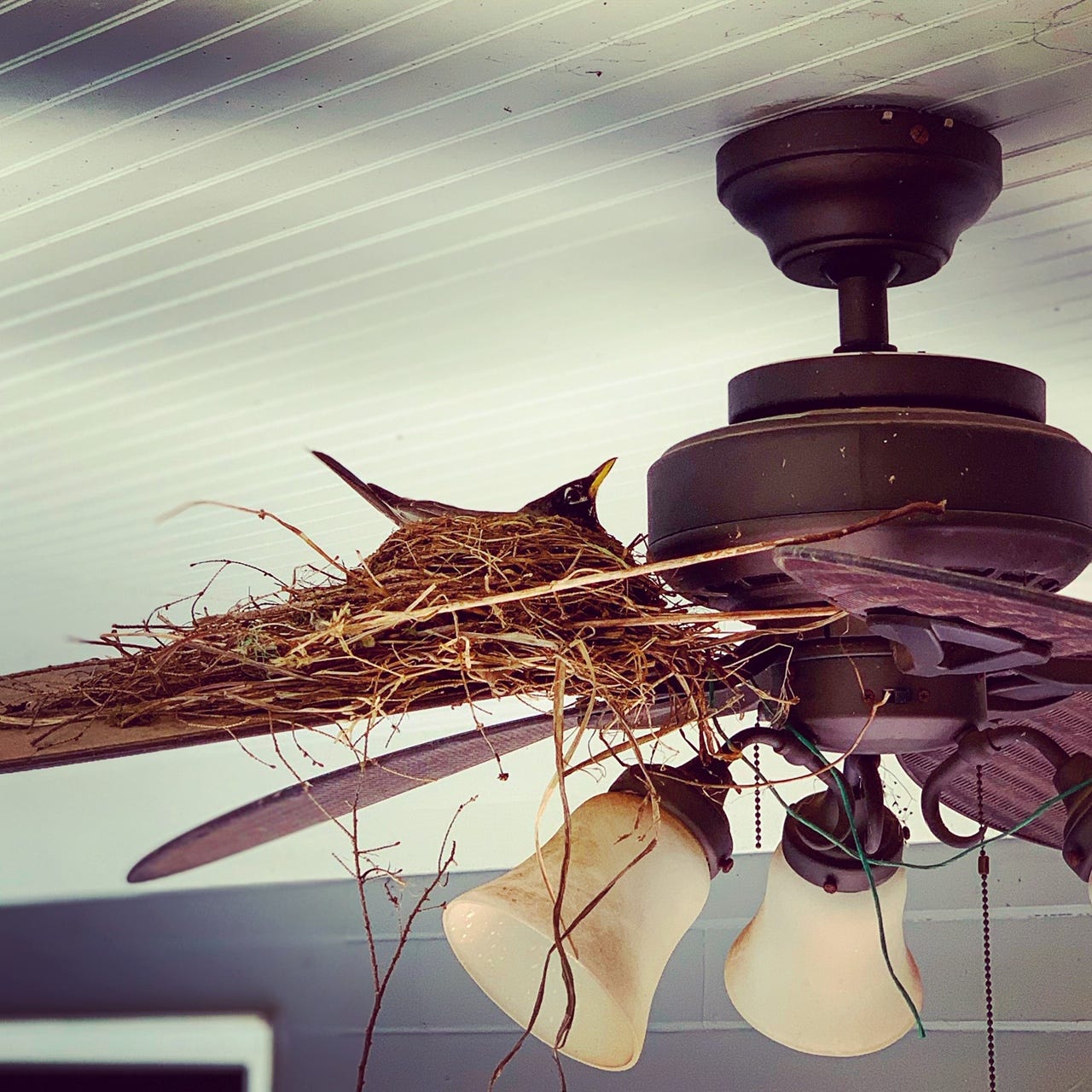 So, we have a visitor who's going to be staying with us for a while.
That's a mama bird sitting in her nest on top of a ceiling fan blade on our front porch, where she's been keeping her eggs warm for the past week or so. We're all waiting for them to hatch, which still hadn't happened as of this morning.
At different times over the past couple of weeks, everyone in our family has been noticing mama and her mate carrying bits of straw, grass and twigs in their beaks to the top of the fan, but none of us ever imagined they'd really be able to build a nest there.
But build it they have. (Note to self: never underestimate a determined pair of lovers!) You'd have thought, because we all go in and out the front door that's just below that ceiling fan every day, multiple times a day, that the birds would've been scared off or abandoned their nest at some point. They seem settled and happy, however; almost like they own the place with us.
I share this with you all not because it's of any great importance but, rather, that it's one of those things that caught my eye here in our little corner of the world. Sometimes I write about big things, sometimes about little things, and this week it's the little things that happened to capture my attention. 😊
Also wanted you to know that I received some really amazing, thoughtful and reflective replies to last week's newsletter. Some of the ones that stood out include this reader's:
"I understand your "dilemma" of sorts of juggling family, work, play, and running. Not enough hours in the day! I sometimes feel apprehension about having children because I know I will have to give up some of my "me time" and prioritize things differently. I also have a lot of fear about how it will affect my body and my running! But, I also feel the clock ticking on time I have left to healthily and safely have kids. A conundrum!

I've been in a bit of a slump with running since my last race in mid-February, and I'm very much trying to bring myself to the mental space of, "the mile I'm at is the mile I'm at." I can do what I can do. Do I sometimes think about running another marathon? Yes. I've run ONE. A rewarding experience, but I gave up a lot of social time, going to bed early on Friday nights, waking up early on Saturdays to run for a few hours, drinking water when my husband and our friends were drinking other adult beverages. 

But, what I always come back to is how much better I feel when I do run, even just a few miles, and how it puts me in a better head space about the rest of my to-do list. It makes me happier. It gives me energy. It makes me more patient. I'm with you — wanting to get back to faster and longer miles, but I know that I have to put in the work and be patient in the journey."
And this one:
"Your message here struck a chord with me. When I was in my mid- and late 20s, I ran 5 miles a day after work. When I got married, I became an early morning runner. But life happens and with 2 daughters under the age of 4, it became impossible (without a nanny) to run at all. Fast forward about 29 years and I am strongly considering running [a half marathon] in September. It will be my 6th. 

So my friend, don't fret about doing the mental and physical gymnastics (unless you are into serious cross training lol) to commit to another full or even HM. Your life will ebb and flow with capacity for running. Drink up your young-ish family for now. In a blink of an eye that time will be no more, then your spouse and you can run to your hearts' content and reminisce about what was."
Amen, sister. A-freaking-men.
A few changes
Know too that I was blown away by the response to last Friday's open thread discussion, in which we talked about the success (or lack of it) each of us has had in making changes to our running form and the impact that had.
The contributions each of you guys made to the discussion were so good, I really feel like I learned something new about the body mechanics of running from every post.
It made me realize that we — all of us, together — have built a community here with loads of smart, knowledgeable people who have a lot to say and contribute about running, health and fitness, who haven't been brought into our larger discussion nearly to the degree that they should.
So, we're going to make open discussion threads a regular feature here at The Half Marathoner — some will be for everyone, some for paid subscribers only; we'll work that out as we go. Look for the next one this Friday (maybe that's the perfect day to talk?).
Another change I wanted to let y'all know about is how I schedule our different newsletters. Right now, you're receiving this long newsletter with an essay and a list of races; in a way, this is really two newsletters jammed together into one. (If you're a longtime subscriber, you may remember that roughly a year or two ago, I discussed with you the possibility of splitting these up into separate emails.)
After giving it a lot of thought, I'm going to finally move forward with doing so. Starting next week, here's how the schedule will change if you're on our free list only:
You'll still get our weekly themed list of races each Wednesday, like you do now

The weekly essay will become its own newsletter that goes out every Friday
If you're a full subscriber:
You'll get our race list emails every Monday through Thursday

Our "5 Great Running Reads" emails will move from Fridays to Sundays

Our Sunday training-focused emails will move to Saturdays
To be honest, that's what I'm thinking is the best way to move forward right now, but we'll see how it all goes and make adjustments as we need to. This thing, this newsletter + community is kind of a living, breathing experiment, and I'm just glad you all are along for the ride.
Thanks so much for being a subscriber, whatever level you're at — forgive the plug, but if you're interested in signing up for the full subscription, you can do it right here:
As always, keep in touch and let me know how your running is going — and have a great rest of your week.
Your friend,
— Terrell
---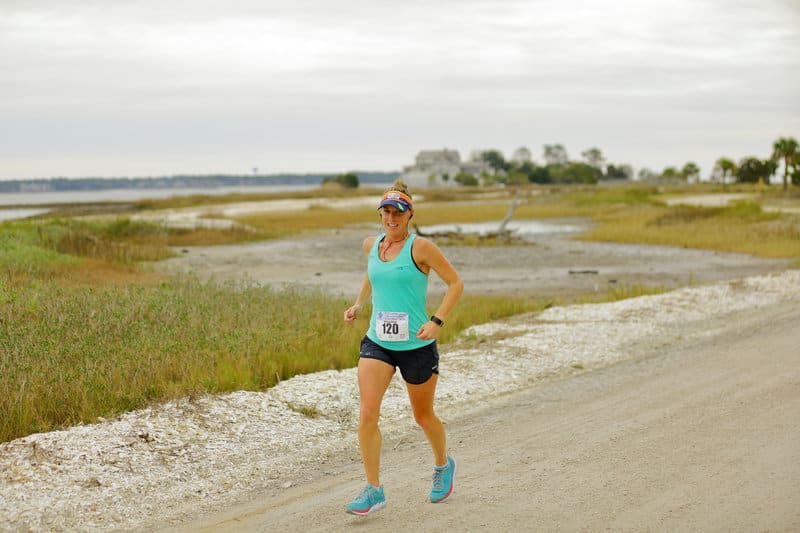 "Why do they not teach you that time is a finger snap and an eye blink, and that you should not allow a moment to pass you by without taking joyous, ecstatic note of it, not wasting a single moment of its swift, breakneck circuit?" — Pat Conroy
---
Daufuskie Island, S.C. | Saturday, Jan. 18, 2020
A magical run on the island pictured above, accessible only by ferry and whose isolation from the mainland helped preserve its Gullah culture and language for more than a century. Most of the island remains undeveloped today, and you'll get to see much of it along a combination of paved and unpaved road that snake along the coastline and into the island's interior. You'll have your choice of running 13.1, 26.2 or 39.3 miles — the half marathon runs the loop route once, the full marathon twice and the ultra three times — but this isn't a race to run to record a fast time. You want to soak in the feel, the sights and the sounds of it all.
$110 and up | Sign up here
---
Johns Island, S.C. | Saturday, Oct. 12, 2019
Located about a half-hour's drive from downtown Charleston, this race runs through Johns Island County Park, a 738-acre wooded oasis filled with miles of trails shaded by moss-draped trees. You'll get to run on dirt trails that wind throughout the park, with everything from grass to tree roots along those often uneven trails. Kids as young as 10 years old are welcome to participate, too, as long as they have a parent or guardian to run with them.
$40 and up | Sign up here
---
Myrtle Beach, S.C. | Sunday, Oct. 20, 2019
Five miles of this early fall race unfold along the oceanfront at Myrtle Beach, the crown jewel of the 60-mile-long stretch of coastline known as South Carolina's "Grand Strand." Those miles all come in the second half of this fast and very flat race, after you've run down Ocean Avenue along the beach and past the Broadway at the Beach amusement park. The home stretch of the race brings you along the boardwalk before crossing the finish line at Plyler Park, near the SkyWheel.
$90 and up | Sign up here
---
Georgetown, S.C. | Saturday, Nov. 2, 2019
Nestled at the confluence of three rivers, just down the coast from some of this coastal state's most famous island resorts, this historic seaport city is filled with tree-lined streets, churches, museums and the gorgeous architecture that lowcountry South Carolina is known for. You'll get to take it all in at this race, which runs across a pair of bridges that straddle the Waccamaw River and the Black River, and features panoramic sunrise views of Winyah Bay.
$65 - $85 | Sign up here
---
Kiawah Island, S.C. | Saturday, Dec. 14, 2019
Fast, nearly all flat paved roads along tree-lined roads that wind through golf course communities and along the beaches of this resort island, located about 25 miles southwest of Charleston. From the starting line near Kiawah's East Beach, the out-and-back route takes runners through a combination of oceanside forests, marshlands and leisurely resort roadways, with plenty of scenic views of the island's majestic beachfront homes, waterways and more.
$85 - $165 | Sign up here
---
Charleston, S.C. | Saturday, Jan. 11, 2020
If you've ever visited, you'll recognize Charleston as one of the nation's truly unique cities, as it meshes the southern charm and ambiance of places like New Orleans with many of the architectural accents and styles of cities in New England. The half marathon at this wintertime race follows a point-to-point course that starts downtown near the area known as "south of Broad," and runs through the city as well as the North Charleston area before heading in to the finish line at Riverfront Park.
$79 and up | Sign up here
---
A song to run to today
"Don't Stop Believin'" from the album Glee: Season One by the cast of "Glee."