5 things I've learned from my summer of running
What it's like to run 300 miles in 30 days; virtual running challenges vs. virtual races; and 5 in-person races you can run this fall in Connecticut, Hawaii, Michigan, New Mexico + Nevada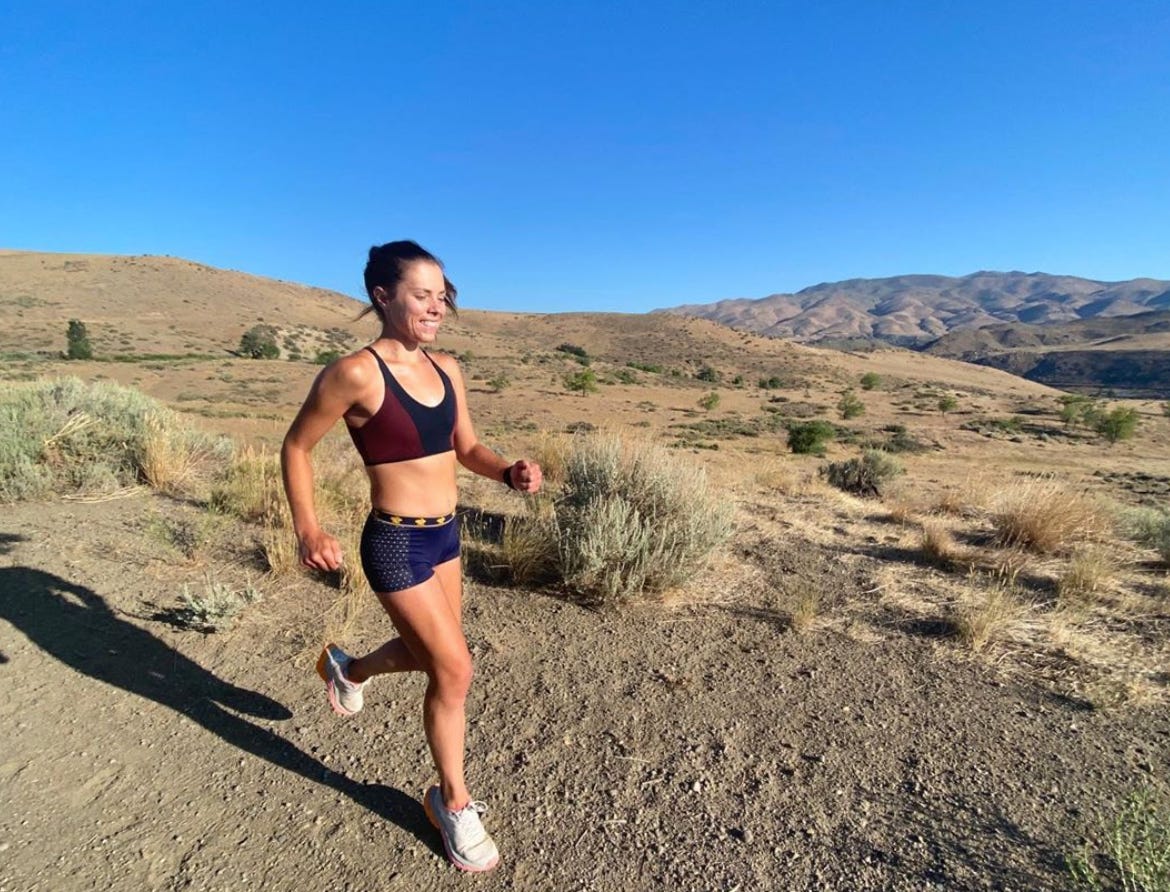 This week, I'm excited to turn the reins over to Hollie Sick, a longtime friend of (and writer for) The Half Marathoner, who has completed more than 40 half marathons and several marathons. All this summer, she's been participating in really interesting running challenges that I thought you all would love hearing about. You can get her newsletter here, and follow her on Instagram and Twitter. 👍 — Terrell
---
If you asked me on January 1 how I thought running in 2020 would be, I would say lots of fast races. I was ready to get back in shape and PR in shorter distances. 
Like most people, I didn't anticipate a long hiatus from racing in general. During my last race in March, I coincidentally got a stress fracture and was forced to sit out for two months.
During the pandemic, both virtual races and virtual events have popped up. Many in person events have moved towards virtual races, but also new virtual races are popping up. After recovering and healing, I've found myself enjoying virtual challenges more than virtual races.
While virtual races feature single events — for which you run as fast as you want on your own course, and later upload your results to a leaderboard — virtual challenges are running a certain amount of miles over a period of time. (You can also upload your mileage to a leaderboard.)
My current virtual challenge is the Grit 300 Summer Distance Challenge. You can still sign up and run distances between 25 and 300 miles. Since I've enjoyed the virtual challenge so much they gave me a discount code of LOLZ5 for readers to save $5.
What has it taught me?
Running "x" amount of miles in a virtual challenge has taught me a lot about life and consistency. The other thing I failed to mention is that we moved across the country a few weeks ago from New Jersey to Northern California. The only thing consistent I have right now is running!
Every mile counts — and matters
I've run 6:15 miles, and I've run 14:05 miles during the challenge. They all count, and neither is more important, but both are miles.
There will be easy days and hard days
Some days feel great, and other days I question why I would want even to do this, but it challenges me to get out there. It's like that with life and the virus. Some days I feel like I could self-quarantine for hours, and other days I wonder if I can do it much longer.
Focus on small benchmarks
When I first signed up for 300 miles, I felt overwhelmed. How the heck am I going to make it to 300 miles in 30 days? I've done it before but not for a few years.
I broke the big goal into smaller goals. That means I need to average 10 miles each day. It means I can run 11 miles and take days off or run 10 miles daily.
Having smaller goals with anything allows me to refocus on the weekly task at hand. Then I can watch it accumulate to the major goal.
Don't compare yourself to anyone
Some people ran 100 miles on their first day. They took several rest days and then did it again. So by their day 1, they were already 1/3rd of the way done.
That is not me! I have no interest in even running more than 12 miles. Focusing on other's times or paces is self-destructive to yourself. Just focus on you and your goals.
I can do hard things
This is a cliché phrase that sometimes I forget, but it's true. I didn't think I would ever be at a point that I could run 300 miles in a month again. I thought that was what "younger me" did. But not only am I doing it, but I'm also enjoying it.
During the entire pandemic, running has been something consistent. Not every day is the same, especially when you move, but while running I'm able to focus on just that: running.
If you're looking for a fun challenge, consider the Grit Summer Distance Challenge. There are distances to challenge you from 25-300 miles, and you can start on your own 30-day time frame.
Have you done any virtual races or virtual challenges?
— Hollie
---
In person races running this fall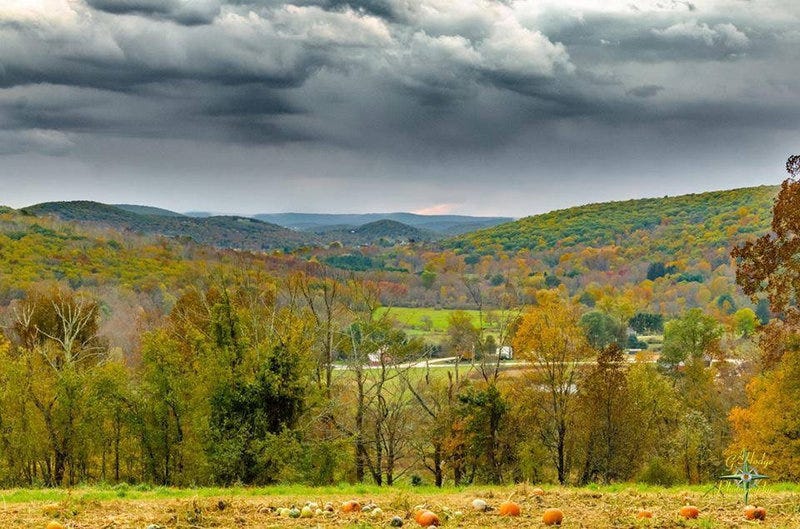 Warren, Ct. | Sunday, Sept. 27, 2020
A hilly, challenging run through Connecticut's Wyantenock State Forest, through a combination of grassy fields, "blue-blazed Mattatuck single track, dirt roads, and plenty of challenging climbs, the race offers a chance to run on unique and seldom used trails," organizers say. If you're really feeling up for a challenge, there's also a 50K.
$55 and up | Sign up here
---
Albuquerque, N.M. | Sunday, Oct. 4, 2020
If you've ever seen the jaw-dropping images of Albuquerque's annual International Balloon Fiesta, then you have an idea of what you'll take in at this race along a fast, flat route next to the Rio Grande. The race begins just a few miles south of Balloon Fiesta Park (where the giant balloons take off into the air), and from there you'll run north along the Paseo del Bosque Trail on the river all the way to the turnaround at the Alameda Open Space, where you'll see the balloons up in the sky as you run.
$75 and up | Sign up here
---
Ann Arbor, Mich. | Friday, Oct. 3 - Saturday, Oct. 4, 2020
Follow the romping trails that wind through the Bird Hills Nature Area along the Huron River in Ann Arbor at this early fall race, which will be small and completely free. Organizers plan to send runners out in 8 waves of 30 runners each, along a course organizers say is 70 percent "gnarly singletrack trails."
Free | Sign up here
---
Kailua-Kona, Hawaii | Saturday, Nov. 7, 2020
Run along the ragged edge of the western coast of Hawaii's Big Island, with views of the Pacific for nearly all of the route. From the start near Kailua, the race heads south along Ali'i Drive for the next 6 1/2 miles, through beach parks and past beachside estate homes. When you reach the half-way turnaround near Kualanui Point, you'll get a glimpse of the "Pit" at the "End of the World," a dramatic cliff along the edge of the island where many a brave (or crazy?) soul has jumped off and into the ocean.
$60 and up | Sign up here
---
Laughlin, Nev. | Saturday, Dec. 5, 2020
It's "one of the most picturesque, peaceful and tranquil places to run on Earth," organizers say of this race in the cool, crisp and dry climate of Nevada's Mojave Desert, where you'll get to take in views of the Colorado River and Laughlin's Davis Dam along the way.
$85 and up | Sign up here
---
Great running reads
She Was in a Grueling 340-Mile Race. Then Came a Highway, and an S.U.V. As ultrarunning's popularity has soared in recent years, so have the lengths to which some race directors are going to create ever-more-challenging events. An Alabama race in mid-June, in which 37-year-old Kim McCoy lost her leg after being hit by a car, has some asking how much is too much.
"McCoy's accident, crossing a highway after five endless days of running, raises the question of whether this race was a test of rigor or recklessness."
How Many Miles a Week to Run If You're Training For a Race. A helpful — and highly detailed — guide to gauge how far you should be running on a weekly basis, depending on the race distance you're aiming for.
"We always tell people to start with a plan, but that plan is not the letter of the law. It's not like you're going to get a failing grade if you don't stick to that plan 100 percent."
Sneak In Some Exercise. On Zoom, nobody knows you're doing squats when you take a call, right? Here's some great ideas for getting in some physical activity while you wait on calls during the workday.
"Find moments throughout the day to incorporate movement into more mundane tasks. It's not difficult. Like toothbrush squats."
How Many Days a Week Should You Work Out? Less than you think, and the harder you're doing it, the less time you need to spend doing it, researchers are finding.
"Due to the bombardment on social media of the rock hard bodies of fitness influencers, people believe that in order to achieve a certain look that they should be working out every day for multiple hours. This couldn't be more false."
👉 Atlanta's Peachtree Road Race, which had been moved from July 4th to Thanksgiving Day, will go all-virtual this year.
---
A song to run to today
"Gone" from the album We're Not Lost by The Show Ponies.
Want to hear all the songs we include in our newsletters? Listen to our full playlist on Spotify, with 8 hours, 2 minutes of music to run to.
---
Words to run by
"Everything that is tearing us down today will become a memory, and this memory will be shared as an anecdote or a story or a poem or a play or a warning. It will be shared with another human being, who will then understand that he is not alone in his sadness. This is why we show up for others and tell our tales and listen to others. The great congregation meets daily, and you are someone's angel today."

— Tennessee Williams
---
Follow us