Discover more from The Half Marathoner
A newsletter about where running can take us
Over 42,000 subscribers
10 Smaller Half Marathons for the Social Distancing Era
In-person races you can run in Arkansas, Florida, Georgia, Louisiana, Tennessee, Texas + Utah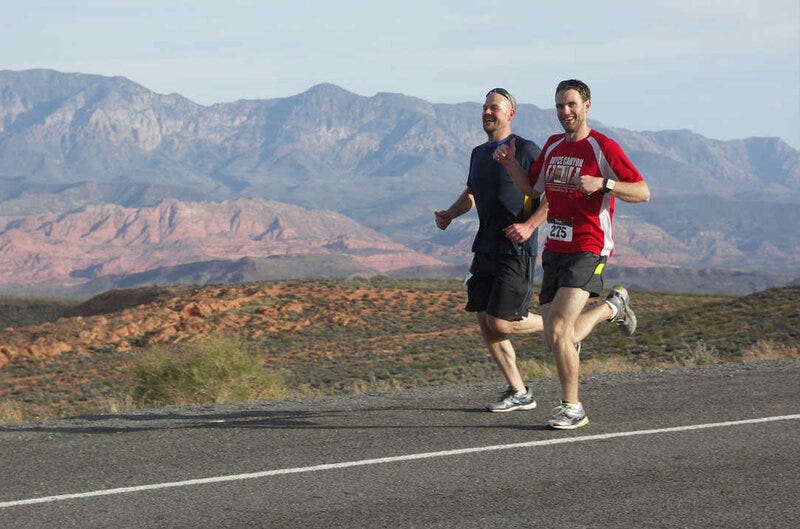 Today, we're trying something a little different. Instead of a huge, long newsletter with our weekly essay, list of races, and the links and stories we share at the end, I decided to make things a little easier on your eyes (and mine!). So today's issue includes just a list of races I think you'll love running — races that plan to practice safe, social distancing, that is. We'll feature our essay in a later email, most likely this Sunday.

I'd love to know your thoughts on this — good idea, or bad idea? Let me know 😃

— Terrell
---
Moab, Utah • Saturday, Nov. 7 + Sunday, Nov. 8, 2020
One of Utah's most popular races — organizers say the "canyons around Moab are unlike anywhere in the world, and this course conquers some of the most spectacular" — the Moab Trail Half actually is two half marathons, one on Saturday and one on Sunday, both of which run along the same course. You'll run through Pritchett Canyon, a place filled with stunningly gorgeous red rocks and sheer canyon walls, and then climb up Kane Creek Road before your descent onto the hard-packed single-track trails along the creek. There'll be a few sections that take you through knee-deep water (which may be higher, depending on the weather before race day) but the views make it all worth it.
$95 and up | Sign up here
---
Nashville, Tenn. | Sunday, Nov. 8, 2020
Hosted by Nashville's Frostbite Running Club, this race will unfold along the park roads and trails that wind through Shelby Bottoms Greenway and Natural Area, a 960-acre park nestled along the Cumberland River. Starting from the picnic shelter in Shelby Park, runners will follow an out-and-back loop through the Shelby Bottoms Greenway, along trails used throughout the year for running, biking, skating and walking, along three miles of riverfront. Runners in the half will run the route once, while those running 26.2 will run it a second time.
$35 and up | Sign up here
---
Bend, Texas | Saturday, Dec. 5, 2020
Named for the rock formation commonly found here in southwest Texas, this trail race unfolds through Colorado Bend State Park, a place known for its waterfalls, caves and plentiful trails, about a two-hour drive from Austin. You'll have your choice of a half marathon, 50K, 100K or 150K races, as well as a youth trail run for kids age 12 and under. Organizers say the route is designed to offer runners "a beautiful and difficult trail reality," adding that, "like the Tinaja out in the wild, we hope this weekend provides you with something magnificent...giving you something you need."
$70 and up | Sign up here
---
Helen, Ga. | Saturday, Dec. 12, 2020
Tucked away in the north Georgia mountains near Helen, a small town that refashioned itself years ago into a Bavarian-style tourist destination and draws thousands every year to its annual Oktoberfest festival, Unicoi State Park and Lodge plays host to this race along more than a dozen miles of single-track hiking and mountain biking trails. And with a 6-hour time limit, the race is open to walkers as well as runners.
$45 and up | Sign up here
---
Alexandria, La. | Saturday, Jan. 2, 2021
Take a run along the challenging, winding trails of Louisiana's Kisatchie National Forest at this late winter race. You'll run along a 26-mile trail through the forest, the longest of its kind anywhere in the state, of which organizers say, "no other trail even comes close to the beauty and topography which abounds along the Wild Azalea." You'll be convinced you're not even in Louisiana, they add, as the trails offer a mix of hardwood forest, longleaf pines, lazy creeks and plenty of hills.
$50 and up | Sign up here
---
Greenbrier, Ark. | Saturday, Jan. 9, 2021
Take a run through the beautifully scenic (and challenging) trails of Woolly Hollow State Park in central Arkansas, about an hour's drive from Little Rock. The race will unfold along the park's Enders Fault mountain biking trail system, featuring many twists, turns and switchbacks as well as a run around the lake at the center of the park, which was built by the Depression-era Soil Conservation Service. The race doubles as a fundraiser for the Arrow Project, for children in Honduras.
$40 and up | Sign up here
---
St. George, Utah • Saturday, Jan. 16, 2021
Run along scenic paved city trails that unfold alongside the Virgin River at the longest-running race in southern Utah. Along the looping route, which is filled with twists and turns in the stretches closest to the river, you'll take in views of red bluffs that look out over the northern part of the city, as well as the edge of the Mojave Desert to the south and Zion National Park off in the distance, and the peaks of the nearby Pine Valley Mountains.
$65 and up • Sign up here
---
Bryceville, Fla. | Saturday, Feb. 6, 2021
Nestled along the outskirts of Jacksonville, Fla., the scenic flatwoods, sandhills and marsh of Cary State Forest play host to this late winter (early spring?) trail race, which offers a generous 8-hour time limit if you simply want to take your time and enjoy being outdoors. Organizers plan to stagger the start and require participants to wear masks at the start/finish line, and practice social distancing throughout.
$50 and up | Sign up here
---
Springdale, Utah • Saturday, Feb. 27, 2021
An awe-inspiring run right up to the edge of Utah's Zion National Park, whose mesas, mountains, waterfalls, streams, canyons, caves and red rock formations of nearly every size offer some of the country's most stunning vistas and views, both from high above the rocks and down below in the canyons. You'll start this point-to-point race in nearby Virgin, a tiny town of just a few hundred residents, and from there run east toward Springdale, climbing some 400 feet along the way.
$145 and up • Sign up here
---
Hurricane, Utah • Saturday, March 6, 2021
You'll run under the wide-open, brilliant blue skies of southwestern Utah at this race, which offers up a course that one reviewer described this way: "if you want rock bands and spectators, this isn't for you. But if you want unbelievable views in a rural setting, this is great!" Run at a time of the year when temperatures should be perfect for running — around the mid-50s — the race starts and finishes in Hurricane, a city of about 13,000 that lies about 20 minutes from nearby St. George, Utah, and about a two-hour drive from the closest big city, Las Vegas. And if you're up for sightseeing after the race, Zion and Bryce Canyon national parks lie only a short drive from here.
$65 and up • Sign up here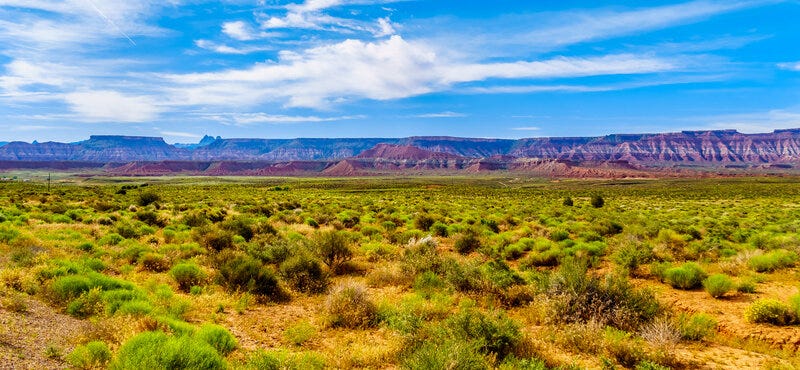 ---
Words to run by
"Your goals should be … things you want to achieve for yourself, not to meet someone else's expectations. Training to reach a goal requires a lot of hard work. When you hit a tough stretch, either physically or mentally, if the goal you're working toward has deep significance for you, you'll find a way to persevere. But if someone else thrust the goal upon you, when you hit tough stretches, you'll think, 'Wait, why am I doing this?'

Most of us have enough areas in our lives where we have to meet others' expectations. Let your running be about your own hopes and dreams."

— Meb Keflezighi